wind-solar hybrid systems are developing rapidly, and there are many types of wind-solar complementary controllers, but there are not many systems that can achieve economical reliability, reliability and safety. One of the main reasons is that there is no good control. System. The wind-solar complementary lighting Controller works in the outdoor environment and is the core of the wind-solar complementary system. The technical requirements of the controller are high.

Our Difference
SATISFACTORY SERVICE
- 15 working days delivery
- 3 years warranty
- on-site installation instruction

ADVANCED WIND SOLAR HYBRID TECHNOLOGY
- Clean energy
- Suitable for any region
-356 days of continuous power generation

CUSTOM SOLUTION FOR YOUR APPLICATION
- Precision- engineered for your application
- Array for solar engines available for your application
- Aesthetic- design and value-built engine options
Off-grid Wind Solar Hybrid System & Grid-tied wind solar hybrid system
Off-grid Wind Solar Hybrid Power System
Going off-grid means going it on your own. You have to produce and store all your own power and if you run out you start up the backup generator. There is no power utility to fall back on. On the other hand, neither is there a power bill.
An off-grid system needs a storage system for the electricity that you product so that it will be available for times when there is no source of electricity. This is storage system is one of the main features that distinguish an off-grid system from a grid-tied system. The other is backup generator for long periods of cloud or calm.
Basic components of an off-grid system including Wind Turbine, Solar Panel array, Battery bank, off-grid Charge Controller and Inverter. A solar panel array and wind turbine provide electricity to sun the appliances in your home. Whatever you don`t need immediately is stored in the battery back. Since you are completely reliant on your own resources, the battery bank must be large enough to sea you through at least 3 days without any solar or wind charging. You will need to plan your energy use using a load analysis so that the charging system and battery bank is large enough to meet your needs.
Grid-tied Wind Solar Hybrid Power System
A grid-tied system is connected to your electrical utility company`s power `grid`. The utility is now your backup generator. A grid-tied system often includes a net metering agreement. This means that when you produce extra power you can feed it back to the grid and receive a credit on your power bills for those times when you use more than you produce. Some utility companies may also pay you for your excess power, or buy power from you.
Basic components of grid-tied system including wind turbine, solar panel array, grid-tied charge controller and inverter. The grid now also becomes, in a sense, your battery bank. Because you feed back your excess power for a credit, it is effectively `stored` for you until you need it. Usually this means that you feed back extra power in the summer and then use the credits in the winter. This is much less expensive than buying and maintaining a battery bank.
A Cost Comparison
Off-grid system are cost competitive if you live sufficiently far from the closest grid connection. If you need to have power brought in it may cost you at least as much or more to connect to the grid as to pay for the batteries and generator required for an off-grid system. If it will cost you $20,000 or more to bring in power, for example, the off-grid system quickly pays for itself, especially since there will be no ongoing power bills.
It is much less expensive to set up and maintain a grid-tied system. It also means that most of your money is going to what you really wanted to buy in the first place – wind power and solar power. The inverter system, which converts the DC wind & solar power to normal household AC power, is the only other expense for materials. Installation is also less expensive if there is no battery bank to install.
Main Components of Off-Grid Wind Solar Hybrid System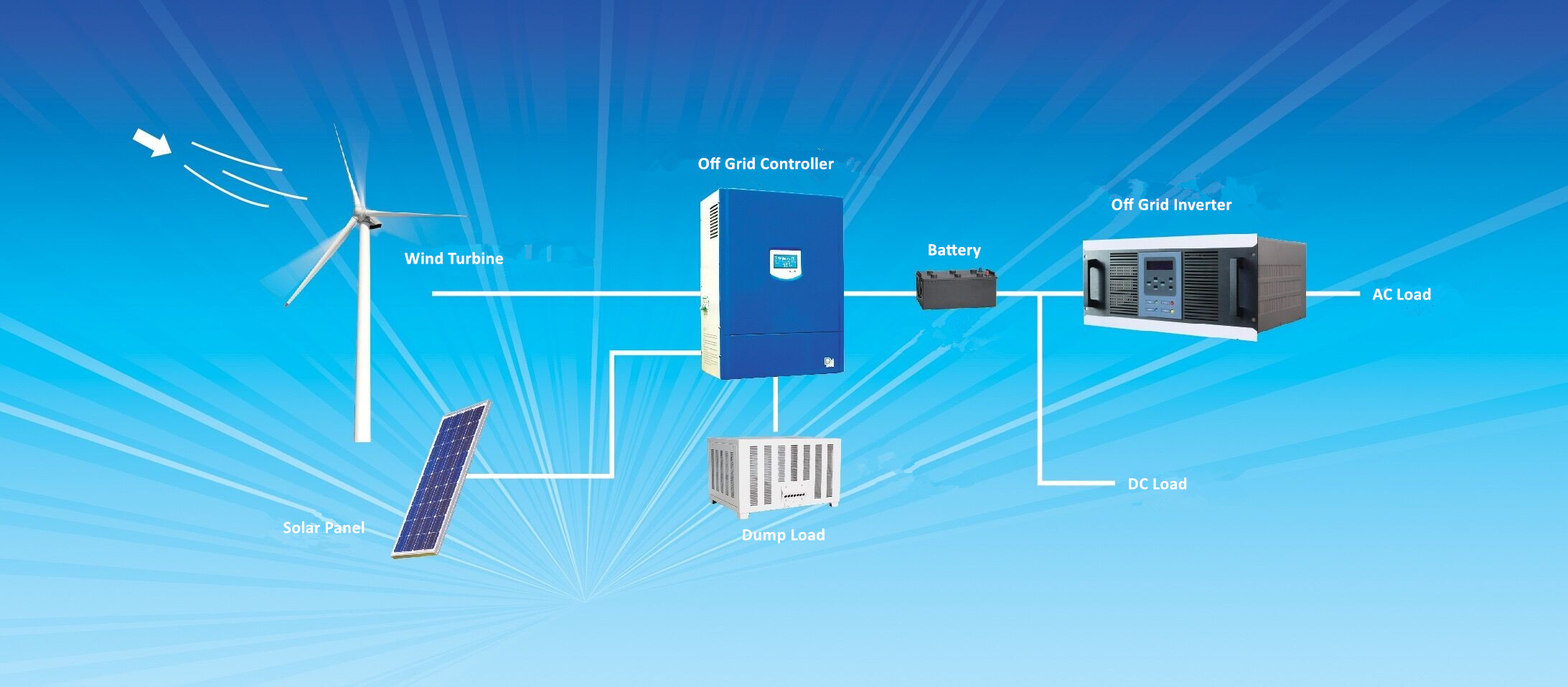 Main Components of On-Grid Wind Solar Hybrid System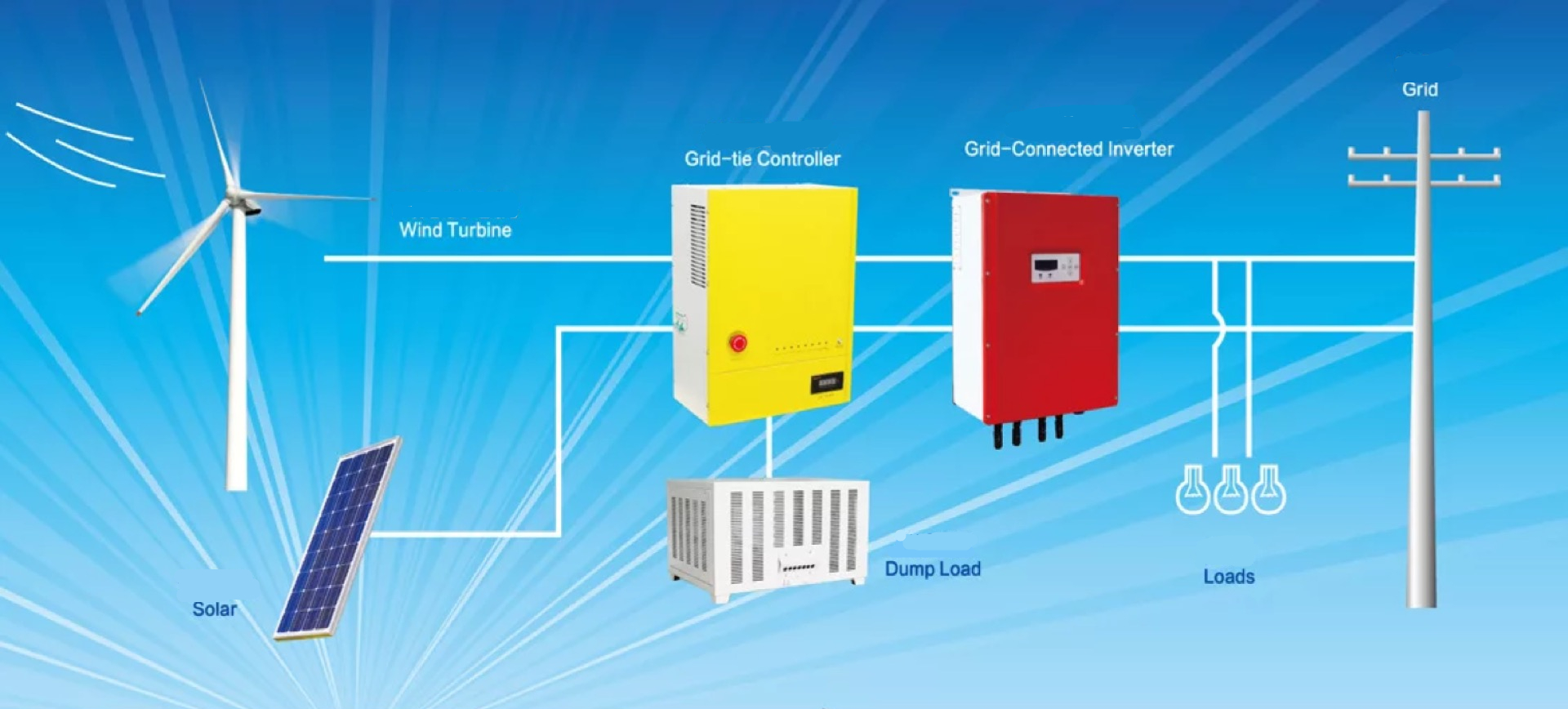 3KW wind solar hybrid system solution(12-15kwh/day)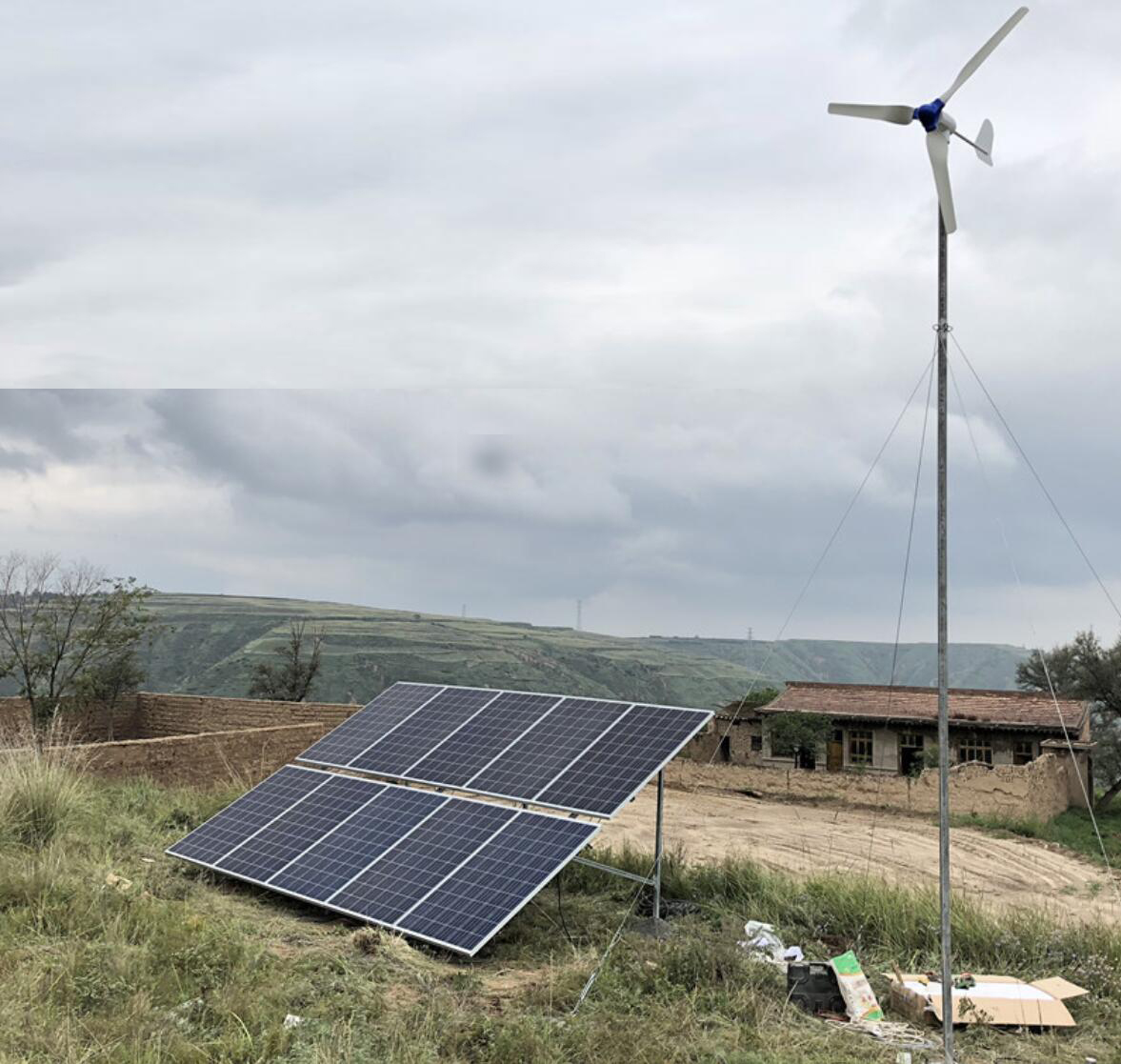 5KW wind solar hybrid system solution(20-25kwh/day)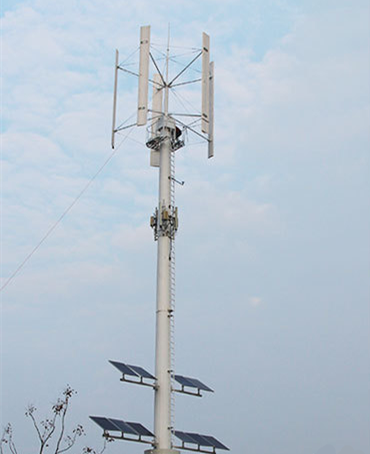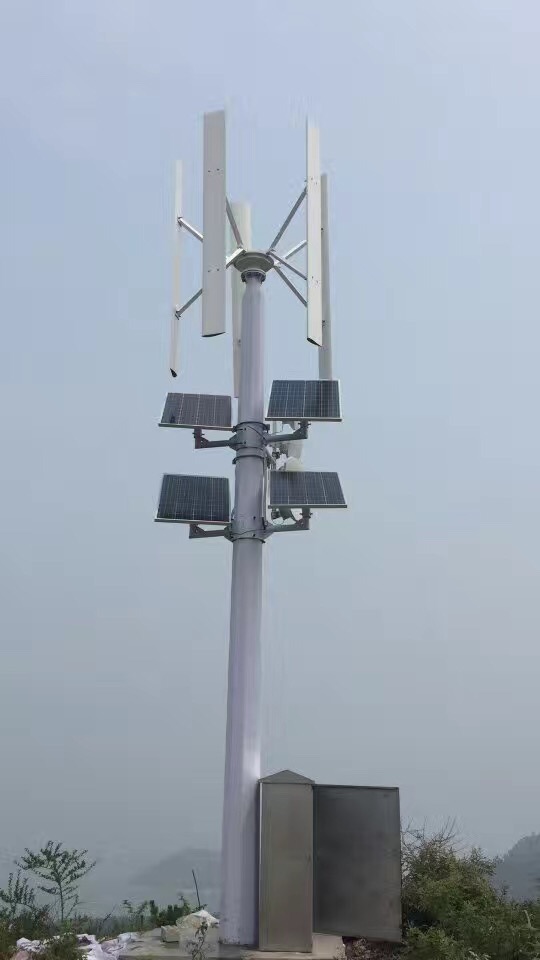 10KW wind solar hybrid system solution(35-40kwh/day)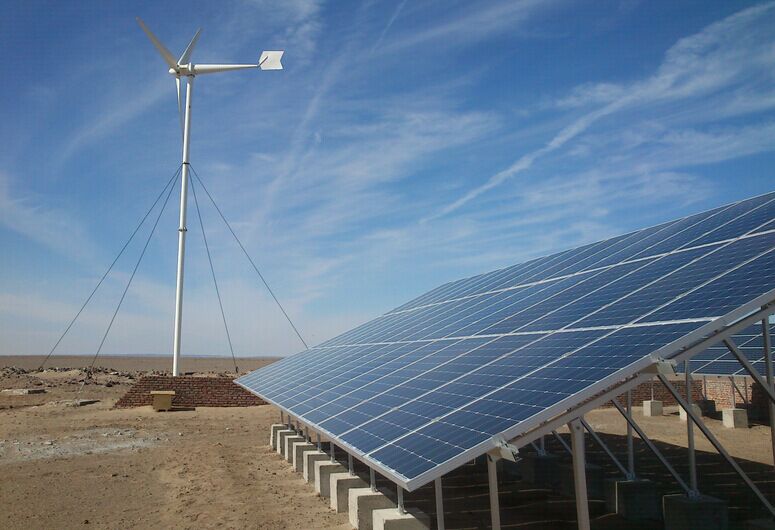 (1-100KW wind solar hybrid system solution customization based on specific requirement )



Grid-tied wind solar hybrid system solution
Wind solar hybrid system projects
HOW DO WIND TURBINES WORK?
Wind is a clean, free, and readily available renewable energy source. Every day around the world, wind turbines are capturing the wind's power and converting it to electricity.
Wind turbines allow us to harness the power of the wind and turn it into energy. When the wind blows, the turbine's blades spin clockwise, capturing energy. This triggers the main shaft, connected to a gearbox within the nacelle, to spin. The gearbox sends that energy to the generator, converting it to electricity. Electricity then travels down the tower to a transformer, where it is converted again to AC or DC voltage depending on the grid.

TYPES OF WIND TURBINES
Modern wind turbines fall into two basic groups: the horizontal-axis variety, the vertical-axis design, like the eggbeater-style, named after its French inventor. Horizontal-axis wind turbines typically either have two or three blades. These three-bladed wind turbines are operated "upwind," with the blades facing into the wind.
Production process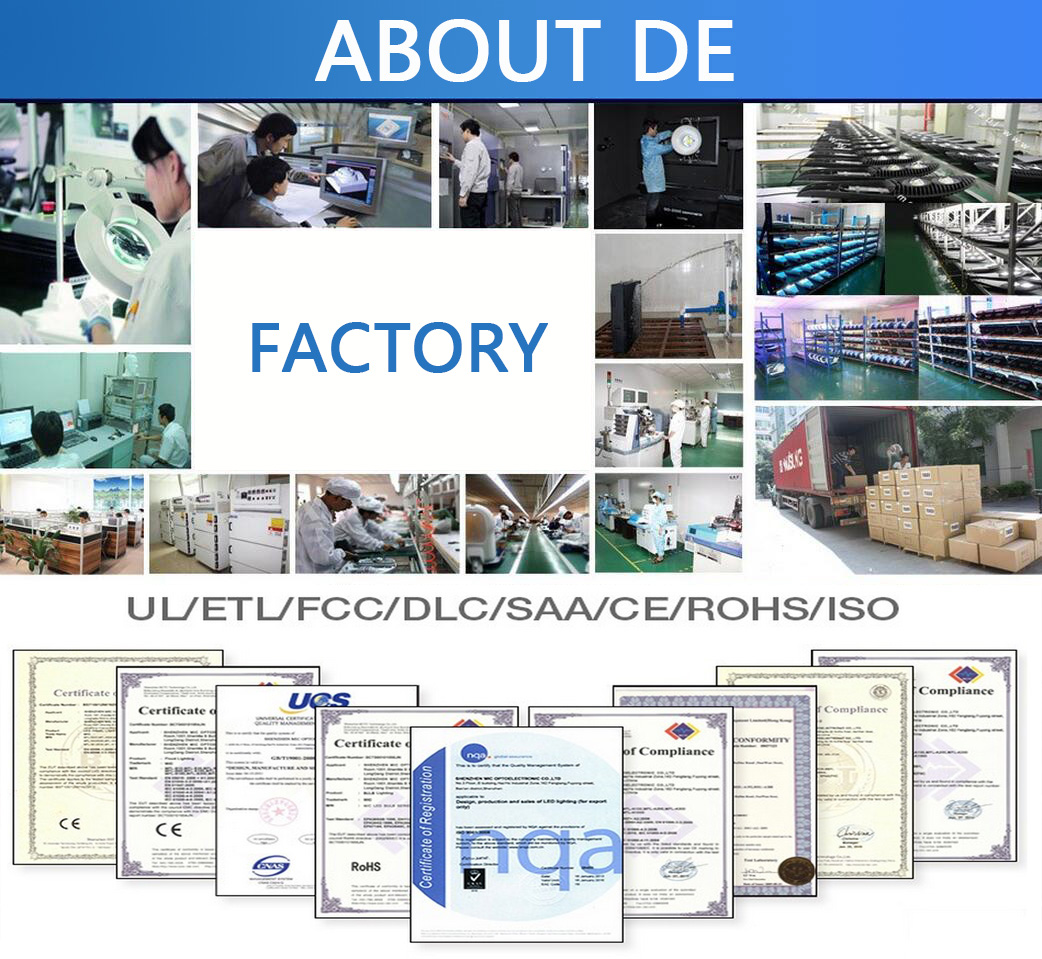 Payment & Delivery
Payment terms
T/T

EXW
30% In advance, 70% before delivery

FOB
CFR/C&F
30% In advance, 70% against copy of B/L
CIF
L/C
Total amount above USD50,000, we accept L/C at sight
West Union
Total amount less than USD5,000
PayPal
Delivery time
15-20 working days after receiving down payment for one container

Thank you for visiting our website, further questions please feel free to contact us. We will do our best to support you all the time.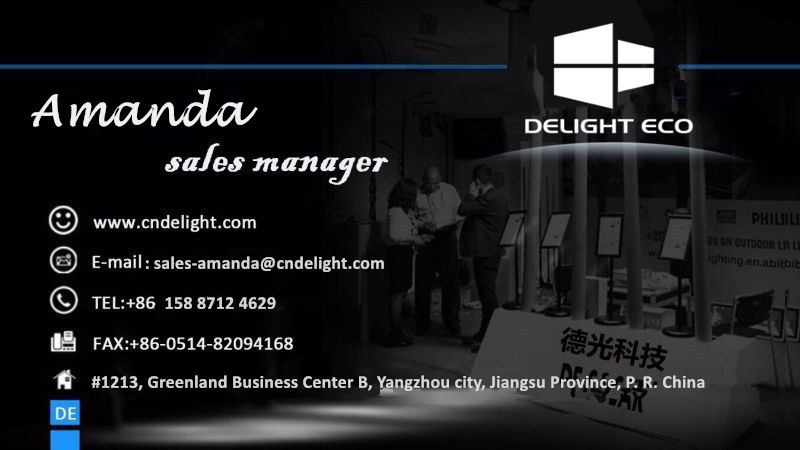 Looking for ideal Wind and
Solar Battery
Charger Manufacturer & supplier ? We have a wide selection at great prices to help you get creative. All the 48 Volt Permanent Magnet Alternator are quality guaranteed. We are China Origin Factory of Permanent Magnet Alternator for Hydro Power. If you have any question, please feel free to contact us.
Product Categories : Wind Solar Hybrid System